Coacervation
Coacervation: The phenomenon of forming a liquid rich in polymer phase in equilibrium with another liquid phase. This involves the classic method developed by National Cash Register (NCR) for carbonless copy paper as well as many other applications. For simplicity's sake we will describe this method as it might relate to applying a gelatin wall.
First the gelatin is dissolved in water forming a 'sol'. The solution is then heated to solubilize the gelatin. A liquid or solid core is then stirred in at a rate which will produce the desired droplet size and/or the proper dispersion. The dispersion is then treated by one of a number of means so as to cause the gelatin to come out of solution in a highly swollen, solvated state.
Further treatment of our slurry causes the liquidous gelatin "coacervate" to deposit around the core material. The formed capsules can then be treated to harden the gelatin walls.
Besides gelatin we us other wall materials to encapsulate liquid or solid materials. Some of those wall material include but are not limited to Urea Formaldehyde (UF), Melamine Formaldehyde (MF), Poly-vinyl Alcohol (PVA) and other proprietary methods which Dodge utilizes.
Phase Separation
Even though this is one of the most popular encapsulation methods, there are certain variables
that this method is subjected to. Some of those variables are, but are not limited to the solubility of the core material, whether the final product should be dried and isolated or left in a slurry and the application in which the capsules will be used.
Wall Materials include but not limited to,
Calf Skin Gelatin
Pork Skin Gelatin
Fish Gelatin
Kosher
Gum Arabic (acacia)
Carboxy methylcellulose
Polyphosphate
Insitu Polymerization

Wall Material include but not limited to,

Aminoplast / Thermoset & Variations
Poly (methyleneurea) PMU
Poly (oxymethyleneurea) POMU
Poly (oxymethylenemelamine) POMM

Poly Condensation

Basic Process
Patented Macroemulsion Process:
US Patent #5,290,547

Benefits
Inexpensive way to deliver oils for low cost applications and cores.
Formulation time is short, allowing for quick turnaround with minimal equipment.
Will give an enhanced release when it becomes wet.  (Activates with moisture)
Sprayable, Printable and Coatable.
Limitations
Stability and release profile is not as good as a true reservoir capsule.
Diluting or mixing with other components may interfere functionality of the material.
Coated material may become brittle and may be prone to flaking.  (This is directly proportional to the coating weight and substrate).
Interfacial Polymerization
In this process we typically have an oily core (but in some instances it can be a solid) containing one of the reactants dispersed in an aqueous media containing the other reactant. A reaction/polymerization is made to occur at the interface of the droplet and the aqueous media causing a wall to form in situ around the droplet.
Controlled Release
The Ronald T. Dodge Company for 40 years, has a tremendous experience base in the art of controlled release. Owner, Ron Versic, is a member of the Controlled Release Society and has been a featured speaker at their annual convention and meeting. He brings many years of experience, working with many major companies in assisting their microencapsulation and controlled release efforts.
The aim of microencapsulation is the isolation of the core from its surrounding wall. Eventually in order for the microcapsule to be utilized, the wall must be ruptured. We find that many walls are ruptured easily by pressure or shear stress. Capsule contents may also be released by melting the wall or dissolving it under particular conditions. In other situations, the wall is broken by solvent action, enzyme attack, chemical reaction, hydrolysis or slow disintegration. This is where a controlled release process can be utilized.
Microencapsulation is often used to slow this release. This may permit controlled releases to prevent a high initial release. There is usually a certain desired release pattern. In some situations, the release is constant as the microcapsules deliver a fixed amount per minute, per hour or per day during the period of their effectiveness. This can occur as long as the solid reservoir or dissolving product is maintained in the microcapsule.
A more typical release pattern is when the rate decreases exponentially with time until the source is exhausted. In this situation, a fixed amount is in solution inside the microcapsule. The concentration difference between the inside and the outside of the capsule decreases continually as the core material diffuses out.
Nevertheless, there are some other mechanisms that may take place in the release of the encapsulated material. These include biodegradation, osmotic pressure and diffusion. Each one will depend on the composition of the capsule and the environment it is in. Therefore, the liberation of the material may be affected by various mechanisms that act simultaneously. 
Ronald T. Dodge has many successful experiences in the art of controlled release. Should you face a specific need for a controlled release of your product, please utilize our expertise to assist your efforts. We stand ready to share our success stories and help you reach your desired results.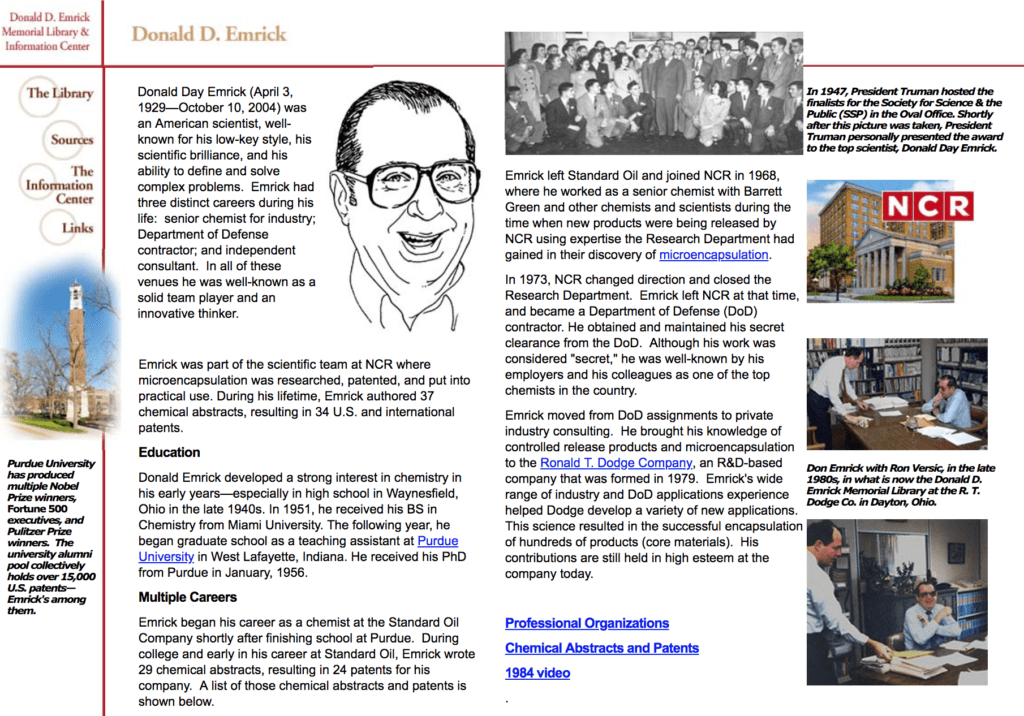 The Donald D. Emrick Memorial Library & Information Center is a diverse, comprehensive collection of 3000+ books, articles, periodicals, seminar papers, scientific/teaching notes, and patents that cover a wide range of topics on microencapsulation and other related topics, including (but not limited to) the following:

Coacervation
Polymerization
Solvent Phase
Separation
Scented Advertising
Coating Materials
Herbicides
Metal Powders

Pesticides
Peroxides
Cosmetic Oils
Preservatives
Entrapment
Encapsulations
Vapor Phase
Deposition

The library is considered a "living" library because all of the material is both historical and leading-edge. We maintain the historical material for perspective and background, and we constantly update the library with state-of-the-art science, new discoveries, and real-world applications.
The materials in our corporate library came from a variety of sources, including the Donald D. Emrick estate. The family generously donated reference and resource books in his name as a legacy to the hundreds of contributions Emrick made to the fields of microencapsulation and controlled release technology.



A second, vital source of intellectual property for the library came from The Engineer's Club of Dayton, Ohio. The mission of the Engineers Club is to "foster the advancement of business, education, engineering and science, and to promote the professional development of its members." Their mission has been enhanced by their kindness.

Additional sources include the Ronald T. Dodge Company and the private collection of Dr. Ronald J. Versic, CEO, of the same company.
The Information Center part of the Donald D. Emrick Memorial Library & Information Center is a collection of patents on microencapsulation, coacervation, controlled release products and process, and other related topics and inventions. On-line access is available to serious students, scholars, scientists, and entrepreneurs.
Information of this type is often overlooked and difficult to access via the U.S. Patent & Trademark Office. Here, the information is concentrated in controlled release technology, and can be easily accessed.
The following represent those patents which the Ronald T. Dodge Company is the Assignee Inventor Source and/or is referenced for microcapsules or related technologies. The patent number and a brief description appear below. When you click on the link (the patent number), you will be moved to a proprietary section of the Dodge website that provides a more detailed description.
6,602,547
Method of coating particles by vapor deposition
6,531,340
Low temperature die attaching material for BOC packages
6,417,227
Methods of delivery of cetyl myristoleate
6,245,366
Fat-coated encapsulation compositions and method for preparing the same
6,145,516
Dental hygiene article
6,102,224
Aroma release bottle and cap
5,958,853
Solid, water-degradable disinfectant and cleanser composition, and associated methods of manufacture and use
5,941,256
Dental hygiene article
5,937,874
Dental floss having two components which react to form an active agent
5,855,826
Matrix-double encapsulation method and a cosmetic composition containing matrix-double capsules
5,789,068
Preformed solder parts coated with parylene in a thickness effective to exhibit predetermined interference colors
5,756,440
Solid, water-degradable disinfectant and cleanser composition, and associated
methods of manufacture and use
5,693,340
Delayed-release form for pharmaceutical active compounds
5,629,092
Lubricous encapsulated ferromagnetic particles
5,567,746
Moldable ferromagnetic particles and method
5,543,174
Thermoplastic coated magnetic powder compositions and methods of making same
5,489,427
Coating material
5,415,862
Effervescent liquid fish attractant composition with audible, visual, scent and taste enhancements and method of manufacturing the fish attractant
5,395,695
Encapsulated oxidation-resistant iron-neodymium-boron permanent magnet particles
5,393,533
Pharmaceuticals microencapsulated by vapor deposited polymers and method
5,328,522
Solder pastes
5,290,547
Macroemulsion having an odor-counteracting discontinuous phase
5,288,504
Pharmaceuticals microencapsulated by vapor deposited polymers and method
5,272,007
Solder powder coated with parylene
5,250,344
Cast material with encapsulated lubricant
5,234,732
Tamper-indicating wrappers
5,069,972
Moldable microcapsule that contains a high percentage of solid core material, and method of manufacture thereof
5,050,910
Fragrance-Releasing Insert for a magazine
4,758,288
Encapsulated lithium granules and method of manufacture
4,508,760
Method and apparatus for microencapsulation
If you're a student, educator, or entrepreneur interested in learning more about the history of microencapsulation, industry pioneers, organizations that contributed to its advancement, or you or your company has a real-world application for controlled-release products, use these links.
Ronald T. Dodge Company—a leader in the innovative art and science of microencapsulation and controlled release.
Microencapsulation—a description of the processes and techniques used in developing controlled release products.
Engineer's Club of Dayton—professional engineering and science organization that fosters and promotes scientific innovation.
Engineer's Club Foundation—prestigious club recognizes leaders in their fields—members include Orville Wright, Charles Kettering, and Barrett K. Green, the "Father of Microencapsulation."
Barrett K. Green—web site of the "Father of Microencapsulation."
Dayton Walk of Fame—famous Daytonians, their names, and major accomplishments immortalized in granite.
Ronald J. Versic, PhD—founder and president of Ronald T. Dodge Company; leading expert in microencapsulation, macroencapsulation, and small particle formation; and author of numerous articles on microencapsulation and related areas.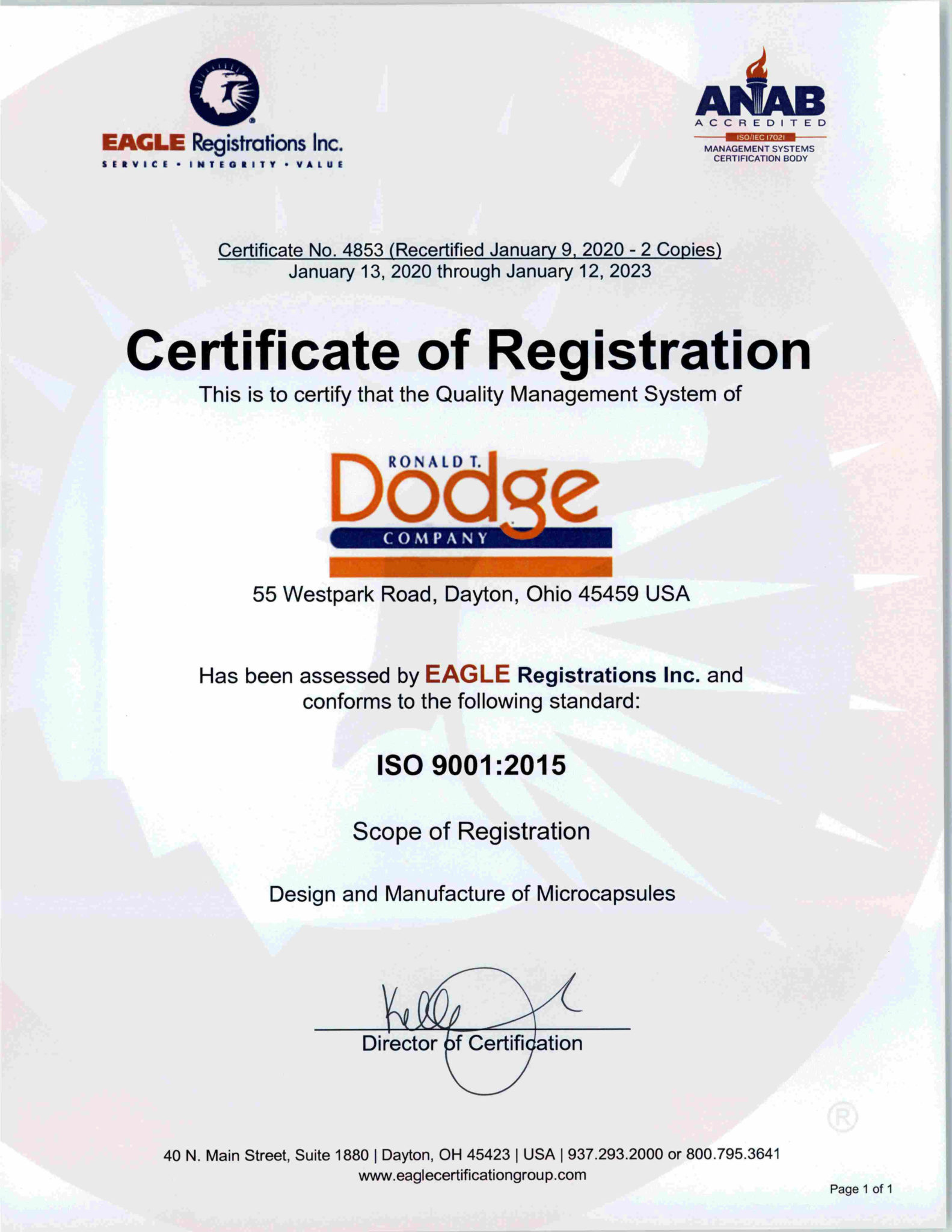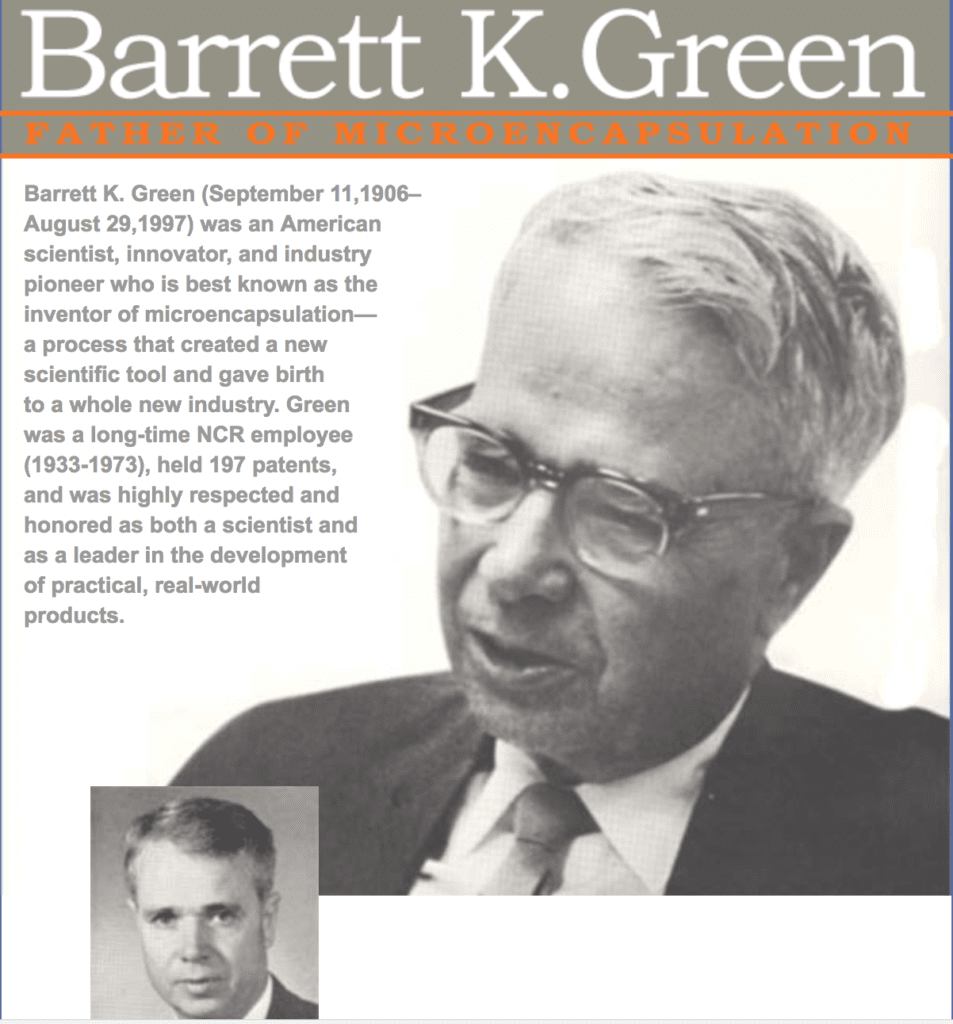 Early Years
Barrett Green developed a strong interest in science, specifically chemistry, in high school in the early 1920s. This interest took him to Cornell University, an Ivy League school located in Ithaca, New York. Cornell was well-known (even in the early 20th century) for its diversity in all fields of knowledge and its emphasis on both learning a discipline, then learning how to apply that knowledge in the "real" world.
During his undergraduate years, Green focused his attention on colloids and colloid science. (A colloid is a substance that is microscopically dispersed evenly throughout another substance: Colloid science is a branch of chemistry that deals with colloid solutions or colloid suspensions.) Green received his BS degree in chemistry in 1928.
Green continued his work in colloid chemistry for an additional four years as a graduate student at Cornell. His keen interest in this specific branch of chemistry and Cornell's emphasis on applied technology seemed to provide the perfect training ground for this future inventor.
NCR
Barrett Green's career at NCR Corporation began as a research scientist (one of the first hired by NCR) in 1933, and ended in 1973 when he retired as Assistant Vice President of Central Research.  During his long, celebrated career at NCR (previously known as National Cash Register), Green pioneered microencapsulation research that led to the development of carbonless paper, scratch-and-sniff products, and time-released capsules among others.
Carbonless paper—Green's major breakthrough product—was developed after many years of research on microencapsulation.  The research began in the late 1930s, ran through the 1940s (except the years during WWII), and into the 1950s.
By 1942, Green had developed a working method of microencapsulating ink and a prototype carbonless paper. Over the next decade, he carefully refined his methods and scaled the process up to productions levels.  He also worked closely with Thomas Busch of Appleton Papers on the difficult process of applying the microcapsules to paper in a thin, flexible layer.
The product had three layers:  the paper; a film of acid-sensitive dye packaged in microcapsules; and a layer of acidic clay to develop the dye from transparent to dark blue or black.  Pressure from a writing implement (pen or pencil) broke the microcapsules of dye on the underside of each sheet (except the last one); when the dye was released, it reacted with the acidic layer on the surface of the next sheet.
Considerable effort went into designing capsule walls that were sturdy enough to withstand processing but would rupture under the pressure of the pencil. Green's tenacity and focus on the practical side of science led to the development of the first marketable, product-based application of his work in microencapsulation.
As a result, NCR introduced the first successful carbonless paper to the business world in 1954, and Green received a patent for microencapsulation on July 5, 1955.
Personally Speaking
Barrett K. Green was also "Barry" to his many friends and fellow scientists at NCR.  In interviews with Jim Scott and Gordon Taylor (who worked with Green from the '50s through the early '70s), both said Green was "hard-working," "quiet," "humble," "reserved," and "firm."  Scott also referred to Green and his wife Bobbie as ". . . a neat couple, both very much a part of the NCR scene as well as the scientific community."
Scott said he and others believed Green ". . . helped save NCR financially with the development of carbonless paper."  (NCR eventually sold the carbonless paper operation, generating a much-needed financial boost.)   Scott also noted that Green's research and efforts ". . . led to the development of literally thousands of products that are on the market today."
Taylor referred to Green as "sensitive," "people-oriented,"  "imaginative," and as a ". . . a top notch scientist."  Gordon also noted:  "After Barry and his wife Bobbie retired to Florida, people came to their home to visit and to get Barry's opinion on a variety of scientific topics."
Barry was an avid sailor from an early age; he and his wife raised two daughters; and he was considered a ". . . solid family man" by those who knew him.
Other words used to describe Green include "personable," "approachable," "practical," and "tenacious."
Problem Solver
Scientists had long been intrigued by the possibilities of controlling the release of an active ingredient by encapsulating it.  Theoretically, it was fairly straightforward.  Practically, getting the conditions right had proved difficult.  Green's research, in part, was based on his studies as a graduate student at Cornell that involved enclosing a liquid in a solid.
Essentially, he solved the controlled release problem by chemically "hardening" the outer layer of the capsule.  To harden the cells walls, he used gelatin.  When gelatin is treated with a reactive chemical (e.g., formaldehyde, tannic acid), new chemical links form between the chains.  The result is a three-dimensional network, called a cross-linked gelatin.  Cross-linked gelatin is harder and less soluble than regular gelatin, yielding a tougher and more durable microcapsule.
In an article written at the time of his retirement, Mr. Green reflected on his discovery.
"I can remember very well the day we found what we had been looking for with encapsulation and paper.  We had developed a process earlier, but it wasn't good enough.  We used an emulsion on the paper, and in a warm room, the emulsion melted and the paper was ruined.
"What we had visualized before we could actually do it, was to leave the oil in the clay which was coated on the paper—leave it there isolated and insulated, but colorless.
"I remember the afternoon I applied the clay toluene test after I'd made some capsules by the coacervation process, and the test was successful.  I knew right away that we had what we'd been looking for."
In the early years, NCR was not involved in the development of chemically-oriented products, but they were always looking for ways to develop a broader range of commercial products they could sell.
As a result of Green's discovery, NCR (No Carbon Required) became a major cutting-edge product that was manufactured by NCR around the globe and was widely used by tens of thousands of customers.  It provided a much-improved business forms media at a time when the business forms industry was growing dramatically.
Prior to his discovery, no major products had been developed using the science of encapsulation.  Again, Mr. Green reflected on his breakthrough.
"The science of encapsulation had been established, but no one had put it to work—to do a job.  When I was a student at Cornell, the professors had very little to say about the idea of a liquid being dispersed in a solid."
Green was an exemplary scientist, but he was also a practical thinker who knew how to solve complex manufacturing problems.  Few individuals in the history of NCR made contributions that were equal to his.
Photo taken at the Dayton Walk of Fame where famous Daytonians, their names, and major accomplishments are immortalized in granite.
Thermal Printing and Photochromic Materials
In addition to his work in microencapsulation, Barrett Green also successfully conducted and guided research that led to the development of other important industrial applications at NCR.
The thermal printing concept was made practical through his creative research efforts in the area of color-blocked dies that led to the development of a family of specially-designed, heat-sensitive papers.
In addition, Green and his team researched and developed grain-free photochromic materials whose color could be changed by suitable wavebands of light.  The materials were a key link in the development of the Photochromic Micro-Imaging (PCMI) concept for document storage and retrieval.  Considered another breakthrough product at the time (1962), PCMI gave NCR the ability to store the "smallest Bible in the world" on film—1245 pages saved on a 2 x 2-inch piece of film.
The Secret in Building 26
At the same time Barrett Green was discovering, then applying his  microencapsulation theories, another major development was taking place at NCR—a development that would be kept a secret for many decades.
Early in World War II the British had cracked the German's "Enigma" code, but the Germans soon changed the design of the code machine, adding a fourth rotor.  The code, once again, made tracking of U-boats virtually impossible.  That's where Joe Desch, a brilliant thirty-five-year-old NCR engineer, came in.
Desch was given the task of creating a machine to break the new Enigma setting.  The project—known only to those at NCR who worked on it and a few others—was a secret that rivaled the atom bomb project.
The machine he developed, known as the Desch Bombe, was an electromechanical wonder that stood seven feet high, eleven feet long, and two feet wide.  Row after row of wheels imitated the rotors of the Enigma machine.  Desch and his top-secret team broke the code; the Navy was able to track and sink the U-boats more easily, and the Battle of the Atlantic was won as a result.
Joe Desch was given the Nation Medal of Merit, our country's highest civilian honor.  When Desch died in 1987, even his daughter had no idea how important his career at NCR had been to the Allied victory in World War II.
Applied
Technology
A few years after NCR introduced carbonless paper, another first-of-its-kind product— based on Green's research—was delivered to the marketplace.  Chester Carlson, an inventor, enlisted the aid of the Haloid Company of Rochester, New York to help commercialize his new copying process known as xerography.  Xerography was a dry photocopy process that used toner consisting of microencapsulated dyes.  The Xerox 914, released in 1959, was the first machine that faithfully produced copies of virtually any document without resorting to less desirable, messy wet processes.
An unexpected path that this versatile technology took was the development of fragrance ads used in advertising scented products.  Commonly known as scratch-and-sniff, these "ads" consisted of small capsules filled with a solution—typically perfume.  Scratching the surface ruptured the capsule and the scent was released.
One of the broadest applications of microencapsulation technology has been the development of time-released capsules by the drug industry.  Since the 1920s, pharmaceutical companies have worked on methods for encapsulating drugs to mask unpleasant tastes and other reasons.  For example, if a drug cannot stand up to the highly acidic conditions of the stomach, a microcapsule coating can resist acid but dissolve in the nearly neutral environment of the small intestine.   Further, the rate at which the drug leaches out of the microcapsule can be controlled by the type of material used in the capsule wall.  Based on Green's invention, it is possible to provide a steady outflow of drugs to patients around the clock.
Microencapsulation technology can also be found in the agriculture industry.  For example, pesticides can be encapsulated to control the release rate.  Some pesticides which are highly toxic to humans can be encapsulated to provide a barrier between the operator and the pesticide to decrease the risk of exposure.
Other applications include foods, cosmetics, detergents, paints, adhesives and sealants, nutritional supplements, personal care products, pet care products, household products, and more.
The real-world applications of Green's technology developed over a half-century ago seem limited only by the imagination today.
Microencapsulation
Definition—a means of
packaging, separating,
and storing materials in
microscopic  capsules for
later  release under controlled conditions.
1902—observation of process by Viennese chemist Wolgang Pauli.
1939— Barrett K. Green began research at NCR.
1942—H.G. Bungenberg de Jong of Netherlands suggested coacervation could be used to make microcapsules for drugs.
1942—Barrett K. Green developed a working method of microencapsulating ink and a prototype carbonless paper.
1955—Green received a patent for microencapsulation. Industry applications include:  xerography, scratch-and-sniff, and time-released capsules.
For additional details and suggestions on leading-edge applications based on Green's research and development efforts, click here.
Recognition
Barrett K. Green was well-known and highly acclaimed for his work during his life.  He was honored by his colleagues at NCR and other professionals; recognized by his community; received numerous awards for his research and product developments, and was inducted into the prestigious Engineering and Science Hall of Fame after his retirement.
During National Engineers Week in early 1965, Green was honored for his work in 1964 on the Photo Chromic Micro-Imaging concept.
He was also acknowledged at that time as the author of the "Coacervation" section in the New Encyclopedia of Chemistryand as co-author of a paper entitled "New Principle of Emulsion Stabilization" presented to the American Chemical Society and as co-author of a paper entitled "Chemical Switches" presented at the International Symposium on the Theory of Switching presented at Harvard University.
At the time, Green had already received over 70 patents for his work in microencapsulation, chemical transfer printing systems, and color-reactant systems.
Later that year (1965), Mr. Green and a fellow researcher from NCR, Lowell Schleicher, were acknowledged for their work in microencapsulation and color chemistry, receiving the "Modern Pioneers in Creative Industry" award from the National Association of Manufacturers (NAM). 
The NAM's stated purpose in presenting these coveted research awards was " . . . to recognize individuals or teams of individuals in industrial research and development who  have played a leading role in the improvement of living standards."  Others who had previously received this prestigious award included Orville Wright and Charles F. Kettering.
On October 17, 1991, Barrett Green received one of his most prestigious awards from the Engineers Club of Dayton:  He was enshrined into the Engineering and Science Hall of Fame as the "developer of the process of microencapsulation."  Others honored at that ceremony included Dr. Leland Clark, inventor of the heart-lung machine and Chester Carlson, the developer of xerography.  Other well-known inductees include Orville and Wilbur Wright, Thomas Edison, Enrico Fermi, and Jonas Salk.
Green, shown here with several of his NCR colleagues, was inducted into the prestigious Engineering and Science Hall of Fame after his retirement.
Green was also honored by the community in which he worked and lived with his name and accomplishments immortalized in granite on the Dayton Walk of Fame in 2004.  Scientists, entertainers, philanthropists, corporate and business leaders, and others have been recognized on the Walk of Fame for their " . . . outstanding and enduring personal or professional contributions to the community, nation, and the world."  Green was honored as an "inventor" and acknowledged as the "father of microencapsulation."
Perhaps Barrett Green's greatest legacy can be found in the hundreds of products that have been developed as a result of his work.
Green holds 197 patents —47 U.S. patents and 150 international patents.
Summary
Barrett K. Green was a curious, talented scientist who gave birth to a whole, new industry.  He was considered a "pioneer" as well as the "father of microencapsulation."  Many new products—yesterday and today—were/are possible because of his research, his tenacity, and his ability to solve complex scientific, engineering, and manufacturing problems.
Green could easily be considered one of the original "green" thinkers.  He believed in using resources to their best advantage.  Over seven decades ago—with the invention of
carbonless paper—he was "going green."
Barry Green's life was all about maximizing resources.  About findings solutions to real-world problems.  All about turning pure science into pure profit.
For additional details and suggestions on leading-edge applications based on Green's research and development efforts, click here.
Turning Pure Science
into Pure Profit
References
"A Capsule History: Microscopic Shells Filled with Chemicals are the Key to Technologies Ranging from Agriculture to Pharmaceuticals."  Invention & Technology, Fall, 2003.
"A Scientific Pioneer."  NCR publication, 1973.
"Area Pioneer Chemist Named to Hall of Fame."  The News Herald , Panama City, Florida, November 13, 1991.
"Barrett K. Green: Carbonless Paper."
"Cornell University History."
"Creation of 2 New Divisions Announced By Company."  
NCR Factory News, 1967.
DeBrosse, Jim, and Burke, Colin, The Secret in Building 26: The Untold Story of America's Ultra War Against The U-Boat Enigma Codes, Random House 2004.
"Encapsulation: Small Looms Big."  Dayton Daily News, September 25, 1988.
"Engineering and Science Hall of Fame: Enshrinees."
"Microencapsulation:  Inventor Barry Green."
Invention & Technology, Fall, 2010.
"Microencapsulation Inventor Honored."
Dayton Engineers Club publication, October 1991.
"NCR's Barrett Green Gets Engineer Week Award."
NCR Factory News, March, 1965.
"NCR Senior Scientists."  NCR publication, 1973.
"NCR Sets Up Two New Units."  Dayton Daily News,
October 29, 1967.
"Quotable Quotes from B.K. Green."
NCR Factory News, October, 1973.
"Supervisory Changes In Research Division."  
NCR Factory News, 1956.
"Two NCR Scientists Win Coveted Research Awards."
NCR Factory News, December, 1965.